Z7_89C21A40L8U7A0A6HN0K3K09I7
Academic Exchange
Posted Apr 7, 2015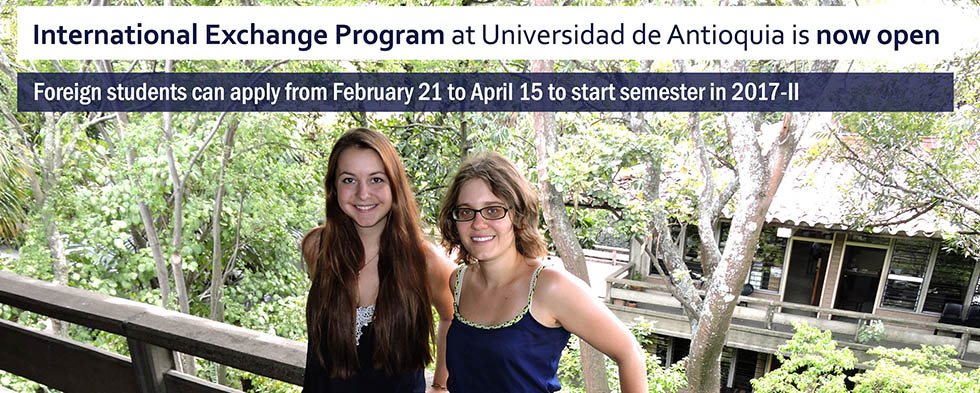 International students, faculty and scholars who wish to engage in exchange activities in Colombia and Universidad de Antioquia must meet the following minimum requirements.
International student exchange
International students can enroll in courses for up to two consecutive academic years.
Tuition waivers for international students who visit UdeA as part of a formal exchange are available to students from partner universities. If you are an undergraduate student and your home university does not have a formal student exchange agreement with Universidad de Antioquia, you should pay a fee of at least $30 USD for each registered credit. Graduate students should consult the appropriate academic unit for detailed information on courses and fees. The University's tuition waiver policy may be viewed by clicking here.
Exchange students must have approval from the appropriate academic unit of their home institution prior to registering for the courses in order to ensure that courses taken abroad meet the student's academic requirements. Approved courses taken abroad will be recognized by the student's home university as part of his/her study program.
As provided by Resolución 532 of 2015 of the Ministry of Foreign Affairs, all international students must register for at least 5 credits per semester (10 hours per week) in order to live legally in Colombia.
Click here to learn more about UdeA's regulations on international mobility.
Admission requirements
Be enrolled in a partner institution that has a collaborative agreement with Universidad de Antioquia. Click here to learn more about the University's agreements. If your home university does not have an exchange agreement with Universidad de Antioquia the student shall bear the cost of enrolled credits.
Have an acceptable grade point average (GPA) according to your home university's grade scale.
Applicants whose native language is not Spanish must demonstrate Spanish language proficiency. Please attach Spanish proficiency certificate.
Have not been the subject of any disciplinary action at your home institution.
Fill out and submit the exchange application form.
All required supporting documents must be sent in electronic format to movilidadinter@udea.edu.co from your home institution. Admitted students will receive a formal letter of notification and will be offered personalized advice.
Required documents
Official transcripts
A written statement explaining in detail the reason for your request and your interest in studying abroad. The letter must be written in Spanish.
A letter of recommendation submitted on your behalf.
Attach a current CV or resume. Make sure your resume is translated into Spanish.
An official letter of nomination from your home university.
A clear, legible copy of your valid passport.
A copy of your health insurance in order to cover health care-related expenses that may arise while you are in Colombia.
Submit the completed exchange application form.
A Spanish proficiency certificate conferred by an accredited institution.
Admissions calendar
The UdeA student exchange program runs twice a year:
From the first week of February through the first week of April
From the first week of August through the first week of October
Health insurance
International students entering Universidad de Antioquia are required to have health insurance coverage that will be in effect during their time in Colombia. The student must provide proof of his/her health insurance upon arrival to the University and prior to enrollment. Make sure that your health insurance covers repatriation. Additionally, students admitted to the School of Medicine must have insurance covering biological hazards.
Entering Colombia
Students from countries whose nationals don't require a visa to enter Colombia and have been admitted to an exchange program that will be completed in less than 6 months are required to provide a formal letter of admission for use with Colombian Immigration upon entering the country and in order to be issued an entry permit (PIP2).
Likewise, you must present the entry permit upon arrival at UdeA in order to legalize your stay and complete your enrollment. This permit must be renewed at the Colombian Immigration Office in Medellín after the 90 days from your initial arrival into Colombia. For questions regarding stays longer than 6 months, please send and email to movilidadinter@udea.edu.co
Entry requirements
Copy of the first page of your current passport where your personal data is displayed.
Copy of the page of your passport with the last stamp of entry or departure of Colombia.
If you've had a Colombian visa that was issued without the OCR (lecture code), please attach a copy of the page of your passport that contains your last Colombian visa. In case you've had a visa that counts with the OCR, this requisite is not necessary.
If your visa application is processed through a third party, an official power of attorney must be provided.
Letter from the applicant or the person taking financial responsibility for him/her accompanied by bank statements indicating that the average bank balance for the applicant for the past 6 months is more than 10 times the legal monthly minimum wage in Colombia. Colombia's minimum wage has been set at $634,350 pesos per month for 2015 (about $208 USD at the current exchange rate).
Copy of the admissions or enrollment certificate issued by the institution you will be attending, or an acceptance letter that describes the agreement between the home institution and the institution you will attend in Colombia as an exchange student.
Students doing internships must provide a document describing that the program of study requires completion of either an internship, practicum or research experience.
For studies other than elementary, secondary, technical or technological education as well as higher education including undergraduate and graduate studies, the student must provide a document issued by the educational institution proving that class intensity is at least 10 hours per week.
Scholarship recipients must provide a certificate issued by the grantor.
Applicants under 18 years of age must submit a notarized parental consent signed by a parent or legal guardian indicating the name of the person appointed as guardian of the minor for the duration of the stay.
Complete the online visa application form, or in person at the issuing office. In the case of artistic, sports and cultural groups, the visa application may be filled out by their representative by detailing the personal data of each one of the members of the group.
Please note that in order to apply for a visa either online or in person, you must provide a valid current passport with an expiration date of more than 180 days and two blank pages.
In order to have your visa stamped on your passport, you must present your passport at the consulate where the passport was issued or at the respective offices in Bogotá. You can enter Colombia presenting the electronic visa you received in the email address provided.
If you choose to apply for the visa in person you will not need photographs, your photo will be taken on site.
For detailed information regarding visas please follow the link below http://www.cancilleria.gov.co/tramites_servicios/visas/clases.

Research internships
Research internship programs provide international faculty and students with the opportunity to engage in research activities at Universidad de Antioquia. Candidates must select and be accepted by a faculty advisor.
Admission requirements
How to apply?
You may select any faculty or research group member as an advisor for your internship. The person you choose must agree to serve as your internship advisor.
Submit an acceptance letter indicating what date you will complete the internship, the proposed research, and your advisor's name.
You must be officially nominated by your home university to participate.
Fill out the application form.
Apply for the appropriate visa/permit
Provide a clear, legible copy of your valid passport or travel document.
A copy of your health insurance.
All required supporting documentation must be sent via email or in person to the Office of International Affairs.
Email: movilidadinter@udea.edu.co
Physical address: Calle 70 52-72, Edificio de Extensión, 6th floor, suite 605
Internships/practicum
Internships allow a student to gain valuable work experience related to his/her field of study.
For detailed guidance and information regarding internships, applicants are strongly encouraged to contact the appropriate department or unit. If you prefer, you may apply to internship positions directly through AIESEC.
AIESEC is a student-run non-governmental organization that provides students and recent graduates with leadership opportunities through a range of international internships with the aim of challenging the students' view of the world and promote cultural exchange.
Internships range in length from 2-18 months depending on the type of agreement and internship.
Types of internships
AIESEC offers two types of internship opportunities:
Professional internships
Volunteer internships
Contact information
If you are interested in applying for an AIESEC internship please contact Daniela Gutiérrez Alfonso, Vice president of Outgoing Global Internship Program. She can be reached via email at daniela.alfonso@aiesec.net
Skype: g.a.daniela
Cell phone: (+57) 313 459 7140
Or check out AEISEC's website at http://aieseccolombia.org/
Language assistants exchange program
The Language Assistants Exchange Program administered by the Colombian Institute of Educational Credit and Technical Studies Abroad (ICETEX) aims to improve the teaching of foreign languages in Colombian institutions. This program is designed to promote the teaching of English, French, German and Portuguese.
Under the supervision of a UdeA faculty member, the language assistants provide academic support and mentoring to students interested in learning or improving their skills in a second language.
Language assistants must complete a minimum weekly tutoring sessions as indicated below:
British assistants: 18 hours per week
French assistants: 12 hours per week
Brazilian assistants: 18 hours per week
Assistants from Jamaica, Barbados and Trinidad & Tobago: 18 hours per week
U.S. assistants: 20 hours per week
If necessary, the educational institution can increase the number of teaching hours per week.
Visit the ICETEX homepage for detailed information about application requirements and processes.
Z7_89C21A40L8U7A0A6HN0K3K09A4
Z7_89C21A40L8U7A0A6HN0K3K09Q0
Inglés UdeA - Iconos Footer - WCV(JSR 286)
Actions