Z7_NQ5E12C0L8ML80Q5EMQ95HS0U2
Presentation
Posted Nov 5, 2020

General information
Duration: 8 semesters
SNIES code: 677
Modality: In-person / online - daytime
City: Medellin
Qualified Registration Resolution: 10426 of 2012
Accreditation Resolution: 7447 of 2012
Program objective
Train comprehensive researchers with critical thinking, autonomy and the ability to generate new knowledge of national and international interest in the area of Basic Biomedical Sciences.
Training areas:
Aimed at:
Professionals with an undergraduate degree in Biomedical Sciences (Bacteriology, Biology, Nursing, Medicine, Veterinary Medicine, Microbiology, Nutrition and Dietetics, Dentistry, Animal Husbandry, Biomedical Engineering and other) can apply to the program.
If you obtained your degree outside of Colombia, please bear in mind that one of the registration requirements is certification of your professional degree. The corresponding validation or degree duly certified by the relevant authority in the country of origin (consulate, chancellery) must be confirmed.
What is a university degree apostille? It is a certification that proves that your university degree is legal. The certification is issued by the Government through the Ministry of Foreign Affairs. This document verifies the authenticity of your degree and the authority of the official who issued it. A duly certified degree is valid in all countries that have signed the Hague Convention.
Graduate profile:
A graduate of the doctoral program is characterized by being a researcher in basic biomedical sciences with an excellent academic level, a critical spirit, laboratory skills in various techniques, and the ability to plan and execute state-of-the-art research projects.
He is a researcher with the ability to lead a group, committed to the generation and dissemination of knowledge

Curriculum: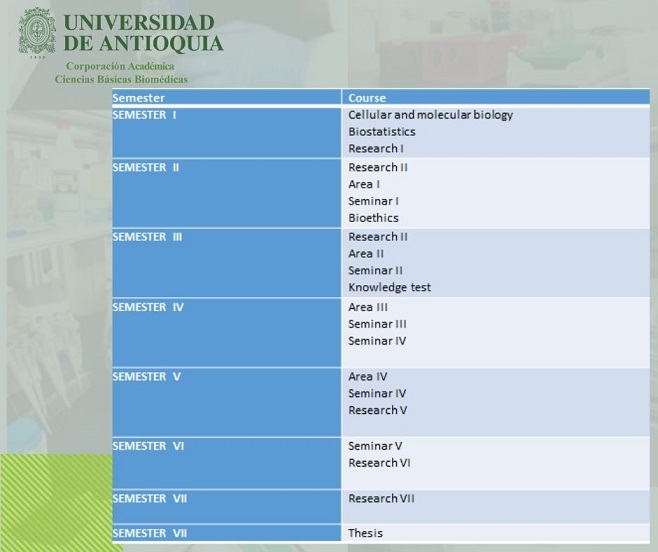 Doubts and concerns:
Postgraduate Coordination
Email: coordinacionbiomedicas@udea.edu.co
Telephone: 57+ 604+ 2196995
Higher Education Institution subject to inspection and monitoring by the Ministry of Higher Education
Z7_NQ5E12C0L8ML80Q5EMQ95HS0U1
Z7_NQ5E12C0L8ML80Q5EMQ95HS0U3
Z7_NQ5E12C0L8ML80Q5EMQ95HS014
Z7_NQ5E12C0L8ML80Q5EMQ95HS016
Portal UdeA - Iconos Footer - WCV(JSR 286)
Actions